Axcient Disaster Recovery
BUILD WITH CONTINUITY IN MIND, AND PROTECT YOUR MOST VALUABLE ASSETS.
Source Office & Technology Software Specialists utilize Axcient solutions to help companies of all sizes protect their data, applications and IT infrastructure alike. Our experts can also show you how Axcient is used to comply with industry regulations and eliminate application downtime.

COMPLETE SUPPORT
Your SourceOT Software Specialist can help put together a data continuity plan that meets your specific business needs. From planning, configuration, installation and setup to training and troubleshooting, your SourceOT Software Specialist is available to ensure your digital information and infrastructure is protected.
---
Axcient Backup & Disaster Recovery Solutions
BACKUP & DISASTER RECOVERY
Axcient's backup and disaster recovery solution creates a fully-deduplicated mirror of your business locally and in the cloud so that you can easily access and recover files, folders, applications, servers and even your entire office with a click. Protect not only your critical data, but also your applications and all systems in your IT environment.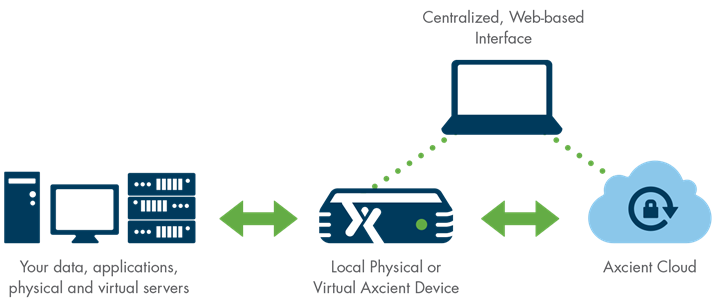 ARCHIVING & COMPLIANCE
Data archival and regulatory compliance with healthcare, legal, financial services, or government regulations can easily be achieved with Axcient's data archival solution. This system follows the most stringent security requirements and helps companies data archival and compliance regulations such as HIPAA, FINRA, GLBA, SOX and others. With local and offsite secure data and application protection, Axcient ensures you follow the guidelines for proper data backup, disaster recovery and archival in your industry.
BUSINESS CONTINUITY
Axcient's business continuity solution guarantees that you can access your data and applications wherever you are and whenever you need it in the event of a major disaster.