SOURCE OFFICE & TECHNOLOGY MAKES IT EASY TO RECYCLE USED TONER CARTRIDGES
Return cartridge carriers are sent with every refill toner cartridge. Simply, place your used cartridge in the recycle carrier, and sent it back to us. We'll take care of the rest because environmental sustainability is not only good for the plant; it makes good business sense.
Plus, it's FREE – with SourceOT, you can be green without any additional spending.
If you have misplaced your recycle carrier, you can call your SourceOT representative to schedule a used cartridge pickup.
WITH HP, WE DO NOT REMANUFACTURE CARTRIDGES AS A "COST SAVER"
Unlike companies who claim that they can save you more money by offering reused or remanufactured toner cartridges, SourceOT only uses 100% Original HP toner cartridges. Remanufactured toners can ultimately create more waste and provide a higher failure rate when printing.
You get the highest quality and the least amount of waste – using less material, less energy and 20% reclaimed recycling material in most Original HP toner cartridges.
HP Planet Partners Program
WORKING TO KEEP USED TONER CARTRIDGES OUT OF LANDFILLS
HP uses recycled materials from returned Original HP toner cartridges to create new ones. This is what HP's groundbreaking "closed loop" program is all about.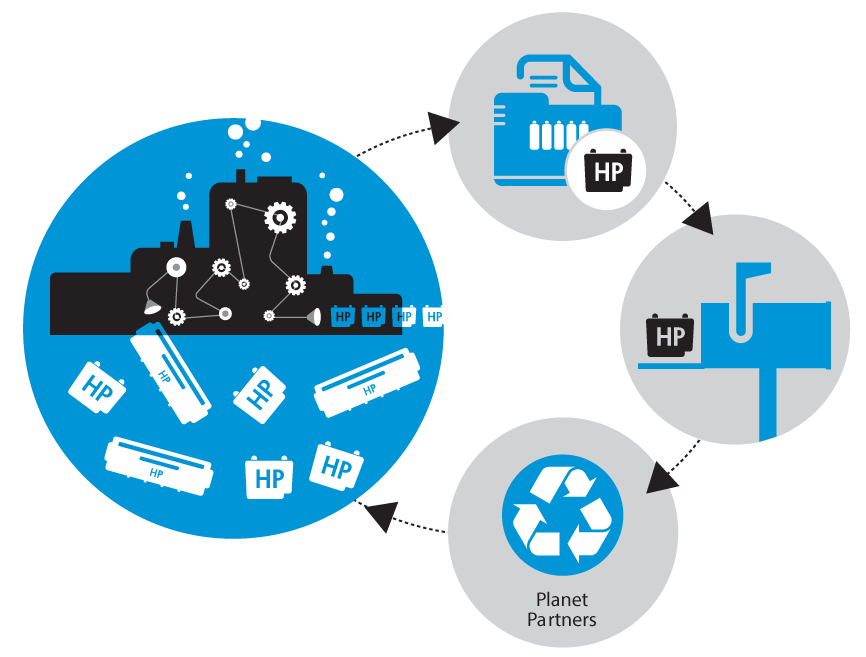 We help customers lower their environmental impact by providing a responsible and free way to return used HP cartridges for recycling.
Since the program began in 1991, customers have returned more than 500 million HP ink and LaserJet cartridges for recycling worldwide.