UniFlow Print Management
UNIFLOW PRINT MANAGEMENT SOLUTION
COMPLETE CONTROL
Encourage responsible printing behaviors. Help eliminate frustrations caused by over-used or faulty print devices. Get your prints exactly as intended and when you need them. The experts at Source Office & Technology have the know-how to gain effective control and management of your entire printer fleet, using web-based solutions that are both modular and configurable to meet your specific business needs
COMPLETE SUPPORT
With an MPS software solution in place, your finance department can view all device usage across the organization and access reports by user, device or groups. Printing Intelligence reports can show the current state of the printing environment together with a trend analysis and a detailed breakdown of all usage, allowing your SourceOT specialist to make sure you have the right machines in the right place to effectively and efficiently support the workflow of your employees.
---
CONTROL PRINTING AND COPYING
uniFLOW printing is designed to save you time and money by providing effective control, reporting and security across your entire imagine fleet. With all your devices connected, you'll be able to identify output and manage the cost of printing, copying, scanning and faxing across your enterprise.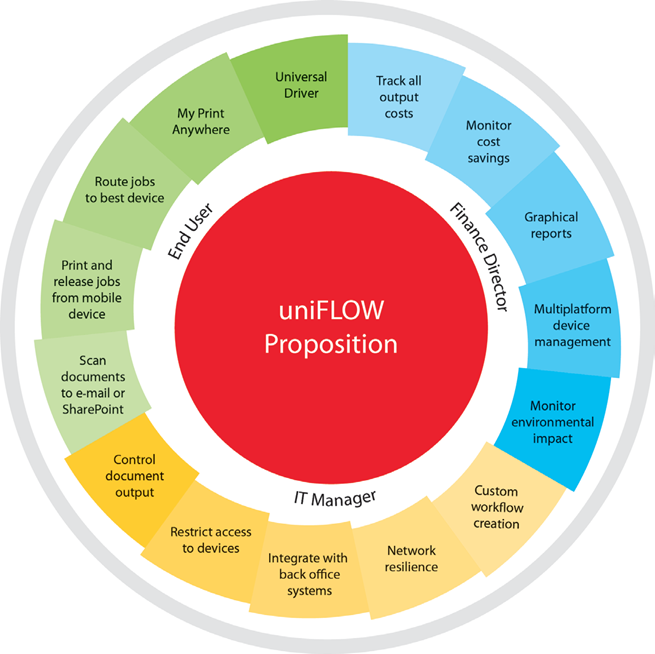 IMPROVE USER PRODUCTIVITY
The ultimate goal is to enhance the users' experience to make their jobs easier. Minimize downtime. Reduce time spent managing and solving IT problems. Eliminate "low toner" hurdles. Give workers the ability to print from mobile devices. Scan to email in an editable format. And, simply, keep the office running smoothly. uniFLOW print management brings it all together.
HEIGHTEN DOCUMENT SECURITY
uniFLOW can be used to introduce a completely secure printing environment that demands users to authenticate themselves at the printer before their print jobs are released. This way, confidential documents are not left lying on the printer tray for everyone to see. uniFLOW also tracks all the e-mails made from the MFP, attaching the credentials of the user to the sent e-mails. Just as from the PC, sending of anonymous e-mails from your office MFP will be prevented.